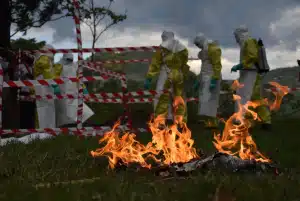 9 de January de 2020

Kayiranga Pascal

2
Disasters have been always a public health issue for humanity and it has been observed that one of means to fight them is to be prepared before they strike. This study assessed the knowledge, attitude and practice of disaster preparedness among Rwanda Red Cross employees. It is a cross sectional and descriptive study realized on 70 persons working for Rwanda Red Cross.
Data have been obtained from respondents and entered the questionnaire produced into SPSS then they have been analysed. The findings showed that 38.6 % of respondents have experience in Red Cross for more than 10 years, 58.6% of respondents do not have any experience in disaster preparedness, 81.4% of respondents know what is a disaster, 42.9% of respondents know what is a disaster plan, 41.4% know where to find a disaster plan, 75% of respondents know what is a drill, 42.9 know their function during a drill, 81.4% know what is a disaster preparedness, 81.4% know that they should give first aid immediately during disaster event and 81.4% knew that first aid should be given by bystanders during disaster event.
For attitude of respondents 54.3% need to know about disaster plan, 81.4% say that management should be adequately prepared when a disaster occurs, 54.3% of respondents said that disaster planning is for few people, potential hazards should be identified to deal with, DM training is necessary for all Staff, disaster plan need to be regularly updated, disaster management is for DM service staff, drills should be conducted in Rwanda Red Cross and first aid should be immediately provided when disaster strikes. For practices, 52.9% said that drills are done in Rwanda Red Cross, 42.9% drills run occasionally, 40% DM training occasionally organized, 71.4% faced disaster, 41.4 member of disaster management team, 52.9% knew the latest disaster RRC was involved in and 81.4% said disaster training should be provided in education in Rwanda.
In conclusion, based on the results there is lack of minimum training in disaster preparedness for Rwanda Red Cross employees and it is recommended to Rwanda Red Cross to implicate all employees in disaster preparedness knowledge and practice.
This is a very good work and it deserves publication. Thanks for Kalu institute and the author.